Welcome to the Southern Hotel Third Floor Rooms
There are four bedrooms on the third floor. Each bedroom has its own bath with a ball and claw foot bathtub, pedestal sinks w/brass fixtures and toilets. NO SHOWERS. These tubs seem appropriate to encourage our guests to step away from their usual routines of life. The themes were chosen based on our extensive collection of antiques and a desire to offer something a little special in each bedroom. A relaxing soak with a good book or good company is just the thing for our stressful lives.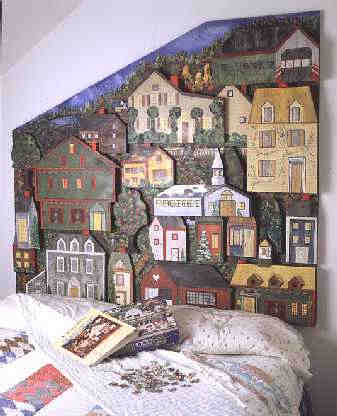 The Wysocki Room
Charles Wysocki is an American folk artist whose work we began collecting in the 70's. All of his work is very distinctive and contains an hidden element of humor and has always made me smile. Can you find the fox in Fox Run? That's the print hanging over the chest of drawers that has been decoupaged with scenes from the calenders Wysocki did.
The headboard of the bed Barbara did, with scraps left over from the building of the kitchen cupboards. This was a work of love as it took over three months to complete the three demensional piece. I suppose it personifies the sampler hanging above the double chair ("Use it up, Wear it out, Make it do, Do without"). A footboard was planned in the same three dimensional style, but a trunk is used instead. This has a QUEEN SIZE BED. NO SHOWERS.
The folk art makes this a cozy room, at its best on a crisp fall afternoon when it is flooded with reflected reds and golds from the sugar maple next door, leaves all ablaze. $125 per night plus fees & taxes.

BOOK ONLINE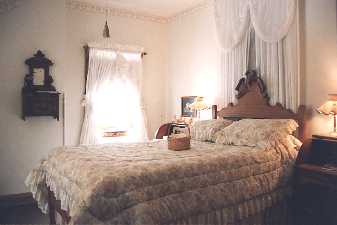 Lullabelle's Room
Barbara thought it only fitting that Lulabelle, her doll and one of the few things to survive her childhood, deserved a special place in our new home. Surrounded by the dolls dresser and Murphy bed, and her clothes trunk nearby, she sits serenely in her ladderback made by great grandfather.
The rolltop desks also belonged to Barbara and her sister Sharon. Many happy hours were spent playing at school and store by our children as well as the two sisters and still bear the marks of our children at play.
The FULL SIZE BED in this room is the highest off the floor and was originally a rope bed. It is also probably one of the oldest in the hotel (circa 1770's very-very high off the floor). Dolly painted an angelic scene on the headboard as a sweet surprise when the bed is turned down.NO SHOWERS. $125 per night plus fees & taxes.
BOOK ONLINE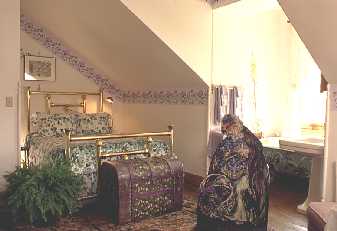 Paul's Purple Room
A very dear friend, named Paul of course, volunteered many hours here and this room was referred to as his room (a very long story...you must ask Barbara).
The FULL SIZE brass bed,171 years old bought at a junk store, took four weeks to polish the first time. Kathy, another close friend, and Barbara used Porter's Friend and enough steel wool to take off their fingerprints. It turned out beautifully and the man in the junk store never learned what happened to the $4 bed now worth $1400.
Among Dolly's favorite things are birds nests and violets, this was the room to indulge both passions on the tub. Barbara stenciled the border at the ceiling, under the ceiling fan and the walls behind the tub. Dolly has painted the wonderful "Violet Seller" one of several "silent people" she has done for the Southern. NO SHOWERS. $125 per night plus fees & taxes.
BOOK ONLINE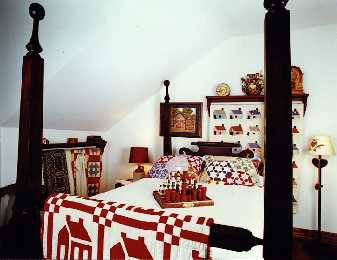 The Quilt Room
Great grandmother Rachel was always there, making a pie by feel or reaching for a scrap to piece up a quilt. Many of the quilts displayed and used in this room are hers, stitched by hand and quilted at the church on Wednesdays. This is a warm and cozy room which contains some of our favorite things, all with a story.
The $5 pie safe that took all the summer of 1967 to restore, the crazy quilt of wools, dated 1886-1887, given to us by a dear friend, and the armadillo which holds the contents of Grandma Beulah's sewing basket. Beulah preferred crochet, bingo and driving in second gear, but I remember the sewing basket. Many of the wooden thread spools used to make Mike's chess set, in honor of the Bobby Fischer matches, also came out of that same basket.
The FULL SIZE 191 year old bed, (which is the highest off the floor) a four poster cannonball (exactly like the one in Lincoln's bedroom in Springfield, Illinois), was purchased in Sedalia, Missouri. We were traveling in our little Ford Escort wagon and Mike said I could buy it if I could get it in the car. You see it, don't you?
This room NOW has DVD NO TV. NO SHOWERS.$125 per night plus fees & taxes.
BOOK ONLINE
The new and old, all precious and comfortable here for you to enjoy. Our research seems to show that this was always a place of happiness and good living, we hope you find it so.
There are many stories, for each and every room, too many to relate here. Just ask when you come to the SOUTHERN HOTEL, we're proud of this project and always pleased to talk about it.
Thanks to you, our guests, and to all the family members, friends and experts who made it possible, we're continuing to change and grow every day.
Prices may vary due to special events.
EVENTS ~ AVAILABILITY
HISTORY ~ DIRECTIONS ~ COOKBOOK
~ RETURN TO SOUTHERN HOTEL HOME PAGE ~
146 South Third Street
Ste. Genevieve, Missouri 63670
(573) 883-3493
Innkeepers: Mike & Cathy
www.southernhotelbb.com
Email: mike@southernhotelbb.com