Oldest Longest Operating Hotel or Lodging Establishment in the United States West of the Mississippi
The Wonderful Garden at The Southern Hotel April is the month to see the WISTERIA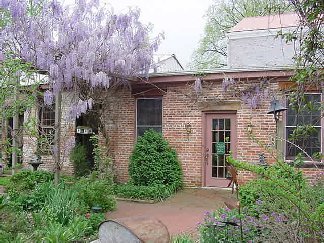 The garden changes many times during the year and you may enjoy it at any time.
The Missouri Art Studio "Mosart" is open from 10 to 5 p.m. all year round.
We offer the fisrt only of its kind, a gallery devoted exclusively to juried artists of "The Best of Missouri Hands".
Early risers will often take a cup of coffee and stroll through the garden, browse the Mosart Studio and enjoy the morning quiet while on the swing under the grape arbor.
We must always remember to stop and smell the flowers as we go.
SECOND & THIRD FLOOR ROOMS
EVENTS ~ AVAILABILITY
HISTORY ~ DIRECTIONS ~
146 South Third Street
Ste. Genevieve, Missouri 63670
(573) 883-3493
Innkeepers: Mike & Cathy
www.southernhotelbb.com
Email: mike@southernhotelbb.com